Focused on tenant comfort
Vodičkova 33 will provide its owners and tenants with top quality and comfort. The building may be historic, but the level of modernisation is unmatched by the current benchmarks of premium office standards. Moreover, it will offer charisma that you will not find elsewhere.
All floors provide a split office layout, some with intelligent open-plan solutions. All office spaces count with toilet, lavatory, kitchenette and server room facilities, with storage space where necessary. The building can serve either as a headquarters or as a subsidiary of several small or medium-sized companies with a maximum of two owners per floor.
The offices in the historic part of the building (2nd-6th floor) are adapted to the original load-bearing structure of the building, but non-load-bearing partitions can be completely or partially removed, creating an attractive and inspiring office with a new dimension of space.
UNIQUE CHARACTER
Thanks to its unique character and sophisticated atmosphere, Vodičkova 33 is perfectly suited for use as a representative office. They will be newly decorated according to the original designs. The common corridors and entrances with the original restored ornamental terraco will offer both Art Nouveau and prestigious character, which also applies to the original historic staircases. The floors are connected by a modern, elegant elevator and, at the same time, by two impressive historic staircases.
REFURBISHED WINDOWS AND DOORS
The windows will be re-fitted to the current insulation standard and retain the original appearance. The interior window jambs and heater trim with ornate coffered elements represent precise handwork that takes interior detail to a new level. The interior doors are also replicas of the original or will be refurbished with handmade hardware. Doors to the service or restroom areas will be frameless with a concealed frame to unify the door surface with the wall.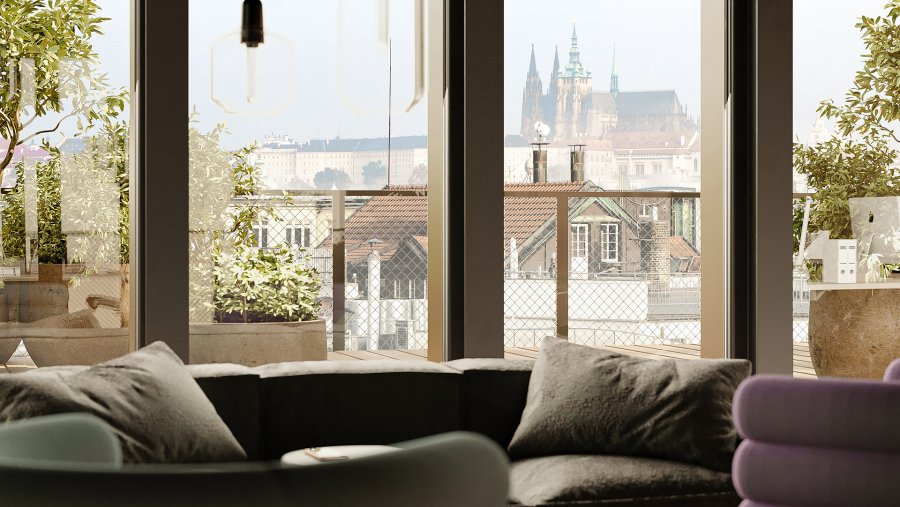 COMFORT AND CLIMATE
LG's state-of-the-art VRF system heats the individual units. In the extension area on the top floor, heating is provided by recessed convector heaters with the possibility of aftercooling by air conditioning. It is fitted as standard in the bathrooms and kitchenettes on the other floors. The area will be ventilated by windows.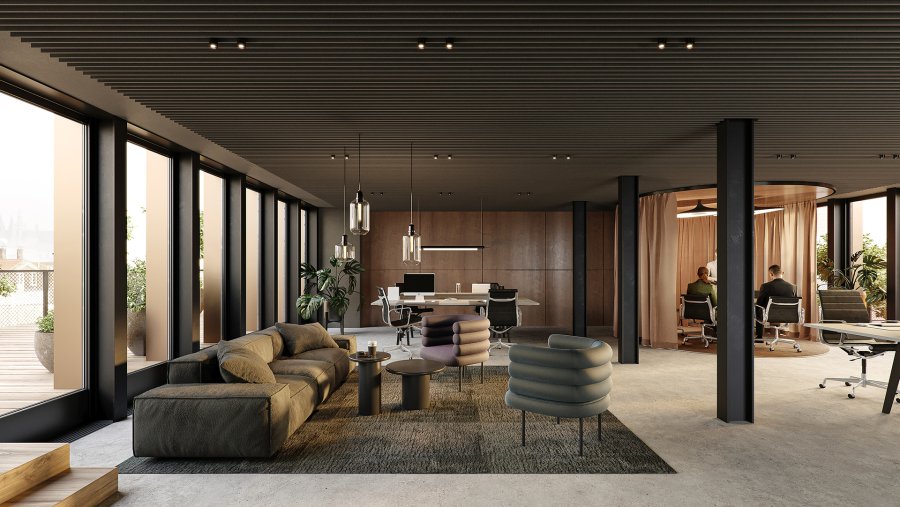 CONNECTIVITY AND SECURITY
Connectivity is ensured by optical cabling led to individual server rooms. The office units will have structured cabling prepared, which will be terminated with a floor box in the rooms intended as meeting rooms. The entrance to the building and the reception area will be protected by a security and CCTV system. All entrance doors to the units will be security class RC3 and fitted with security inserts.
PREMIUM FITTINGS IN BATHROOMS
The bathrooms will be fitted with premium branded fittings which, together with the tiles and ceramics, respect the historic character of the building.